Sunrise TV Box UHD
Now with Netflix, Sky Sport, Teleclub SPORT EVENT and much more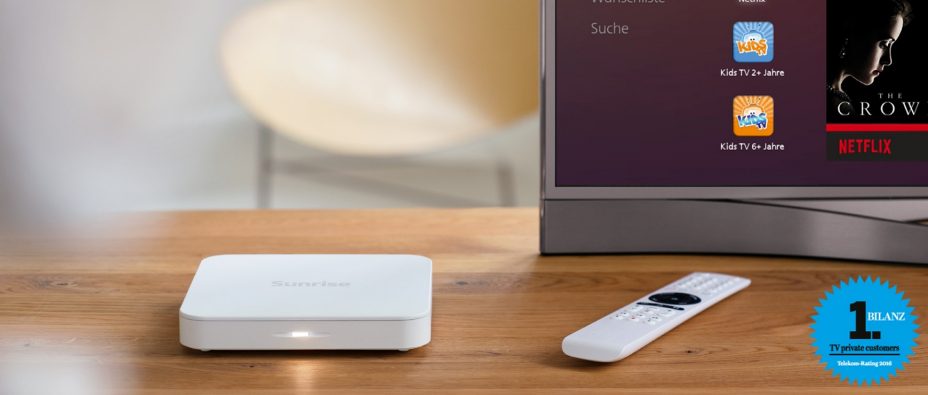 Small, but WOW
The Sunrise TV Box UHD impresses not only with its appearance, but also with its capabilities:
Now you can decide where you want to place your TV in your room. With the integrated WLAN in the TV Box, you are no longer bound to the router or the TV wall outlet. Instead, you can finally decide for yourself where you want to watch TV – and without tangled cables!
Note: The Sunrise TV Box UHD can be connected only with the Sunrise Internet Box using WLAN. If you have a FRITZ!Box, you need to connect it using a LAN cable. You can order the Sunrise Internet Box by calling 0800 707 505 or you can buy one at a Sunrise center.


Remote control via Bluetooth lets you operate your TV from far away, without having to aim directly, and even without visual contact.


Superb processor performance now lets you switch between programs or channels even more quickly.


We bring great cinema to your home with breathtaking image quality, more intense colors in UHD, and a variety of channels and programs.


Do you want to watch the newest hit series from the U.S. just 48 hours after they air, or watch prize-winning Netflix originals from the comfort of your couch? The new Sunrise TV Box UHD lets you do that, too.


You can find more detailed technical data about the Sunrise TV Box UHD and remote control here.
Existing Sunrise TV customers
If you already use Sunrise TV and want to get the new Sunrise TV Box UHD for a hardware upgrade fee of CHF 59.00, call us at 0800 707 505 or visit a Sunrise center.
New customers
See for yourself – this is the best digital TV in Switzerland. If you order Sunrise TV comfort now, you'll receive the new Sunrise TV Box UHD.