«We have eliminated nearly all single-use plastic»
What went into creatint the smallest and most environmentally friendly TV box that won the "Sustainability" category of the "Video Tech Innovation Awards 2020"? Products developer Eric Meijer, who played a major role in the development of the new Sunrise IPTV Box, tells us all about it.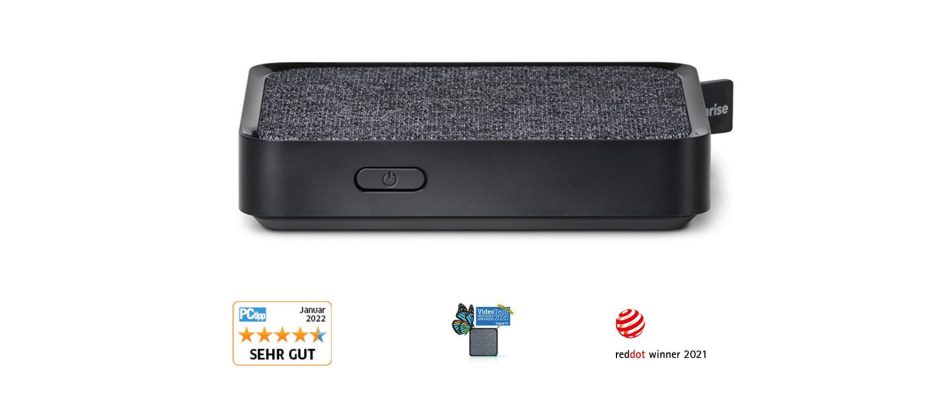 Eric Meijer, what was important to you when developing the new Sunrise IPTV Box?
One important aspect was making it user-friendly: The TV Box has be easy to install and to use. We put a lot of thought into making it more sustainable. A key aspect was reducing power consumption without compromising performance and functionality. And we did it! The new box uses 75% less power. In addition, we have made it smaller, which enabled us to significantly reduce the consumption of materials. It was also important to us to use recycled raw materials: Currently, 85% of the box housing is made of recycled plastic. Another important aspect was reducing the number of components. There are only two connections, one for the video output to the TV and the other for the power supply. This, in turn, reduces the amount of material needed and at the same time contributes to user-friendliness. We also looked at the remote control: We removed features that customers did not use, which allowed us to shrink the remote control and cut the number of batteries it needs from four to two. Another sticking point: Typical HDMI cables are very thick, and so require a lot of material. So I looked into thinner HDMI cables and soon found that it is possible to use these without any loss in quality. The last issue was the packaging. Since the TV box and remote control are smaller, they need less packaging material. In our case, the packaging actually uses zero plastic. 
What were the biggest challenges?
We had to renegotiate with some suppliers because sustainable materials are more expensive. We made compromises on some components and paid more. However, our suppliers were very cooperative and realized that these efforts were worth it. A 75% reduction in electricity consumption compared to the previous generation is quite ambitious. [OE(1] On top of this, we wanted to be able to power the box from a television set, which means we had to stay well below 5 watts. At the same time, the TV Box still had to provide images in Ultra High Definition. This is a challenge at such a low power consumption. In the end, it turned out that we needed a special chipset, which we then adapted specifically to our needs. Another challenge was the heat TV boxes generate, which is why cooling systems are needed. However, the small size of the TV Box meant it was not possible to install a ventilation system or to open air vents. Instead, the heat is radiated by the plastic itself, which is special, since plastic is not actually a very good conductor of heat. So, working with our supplier, we developed a unique design with aluminum heat conductors in the device – this is something completely new.
How many people were involved in this project?
Hundreds – I don't know the exact number, because many of the people involved in the launch and development are either contractors or working for our suppliers. For example, we designed the TV Box and then worked with an external design agency to develop the aesthetic and industrial design.
We have a lot of engineers within the company – for example, they decided which chipset and which components we needed. Then the suppliers come into play. The electronics were developed in Great Britain, the device was manufactured in China and the tests were carried out in India. The software was, for the most part, developed and tested in Amsterdam and Belgium. This represents an investment of several million dollars.
How did you approach the task of building an environmentally friendly box?
It all started with an Excel file, and at the end everything comes together, all these developments, all these tests and all these software certifications. The product has to comply with EU safety regulations and be certified. Electromagnetic radiation, power consumption and many other aspects have to be documented. It is important to highlight that we have made no compromises when it comes to quality. This TV Box has sold millions of units, which means that even one small problem could cause issues for millions of customers.
How can we envision the lifecycle of such a TV Box?
The TV Boxes are part of a service. They remain our property, and if you decide to use a different service from us or to switch to our competition, we ask that you return this box. We will then test it to make sure it still works and has not been damaged. If necessary, we will replace the case, and then reuse the device for another customer. This extends the product lifecycle. Technologies are constantly evolving. Up until now, the typical lifecycle of a box has been seven years. This is really long for this type of technology. And we have them recycled, meaning that the materials can be reused. The electronic components contain valuable chemical elements. This is not only important for environmental reasons, but also because there are not many sources for these types of material in Europe. We need to import them from Russia and Africa. By reusing these materials in Europe, we are less dependent on other countries around the world. As a bonus, we are also avoiding the negative effects on the environment in the countries where they are mined. So from a variety of perspectives, it is really important that we reuse materials in our products.
Are there any plans yet for further modifications to make the box even more «green»?
We've eliminated almost all of the disposable plastic, which is great. However, there are still a few issues that we are working on. The box is now made of 85% recycled plastic, but we have not managed to get that far with the power unit yet. This is due to safety regulations: Recycled plastic is not as strong as new plastic. For safety reasons, we cannot use recycled plastic because it could break faster. Since this would expose high-voltage parts, it would pose a safety risk. For this reason, we have agreed for the time being to build the power unit out of 100% new plastic, but we are asking our suppliers to initiate further research and offer us recommendations on how we can use recycled plastic. There are a few aesthetic features in the remote control that make it very difficult to use recycled plastics. It is challenging to make recycled plastic transparent for the infrared LED. This is something else we are still working on.