Online only
Save 55.- activation
50% discount for 2 years
40.– instead of 80.–/m.
Extended due to high demand.
Unlimited surfing in Switzerland and Europe
50% discount for 24 months when you sign up for a new We Mobile L. 
For your family and friends: Each additional subscription for only CHF 40.-/ Mt. Without minimum contract period and forever.
Sunrise benefits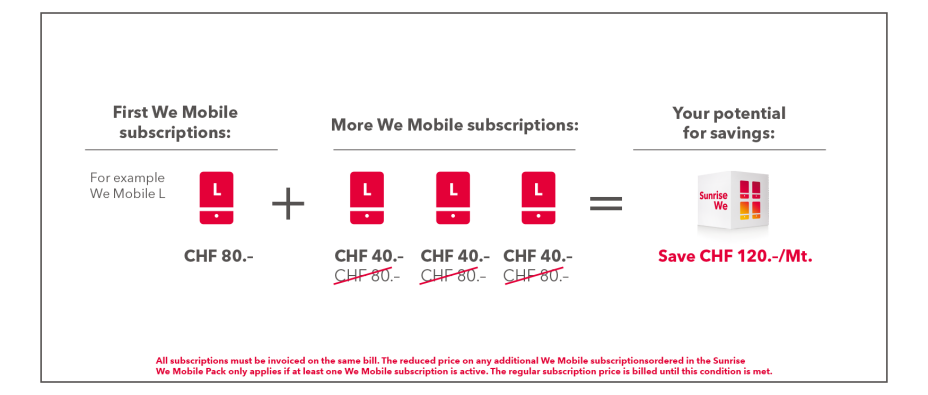 It pays to combine. Combine a We Mobile subscription with a We Home subscription to take advantage of the following Sunrise We Benefits:
Combined savings of up to CHF 25.–/month. 


Family Roaming: Unlimited calls with the whole family included, in Switzerland, Europe, the USA and Canada.

Additional information

Do you still have questions?
Offer valid until 29.10.2020 for new customers with or without device plan when taking out a We Mobile L subscription with 24 months minimum contract duration. Discount permanently not applicable when changing to a subscription with a lower basic fee. Discount in the amount of CHF 40.-/month remains with change to subscriptions with higher basic fee exist. Activation fee incl. SIM card CHF 55. Subject to change without notice.