It's a breeze!
Independent, secure and fast.

Get your new Swiss account with a Visa debit card and Mobile Pay
and join the #Yapster community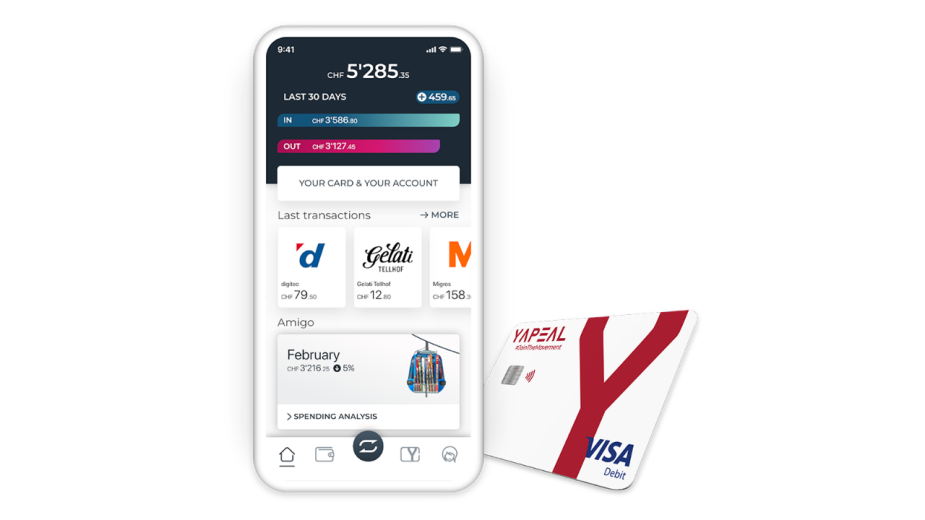 YAPEAL is a life philosophy to how you interact financially with your loved ones and your wider environment. Yap, even that can be fun! To us, you're not just a "customer", you're a Yapster - and so a part of our movement and part of our loyal community.
#JoinTheMovement
Fastest onboarding
100% digital.
Without a video.
Done in 5 minutes.
#Realtime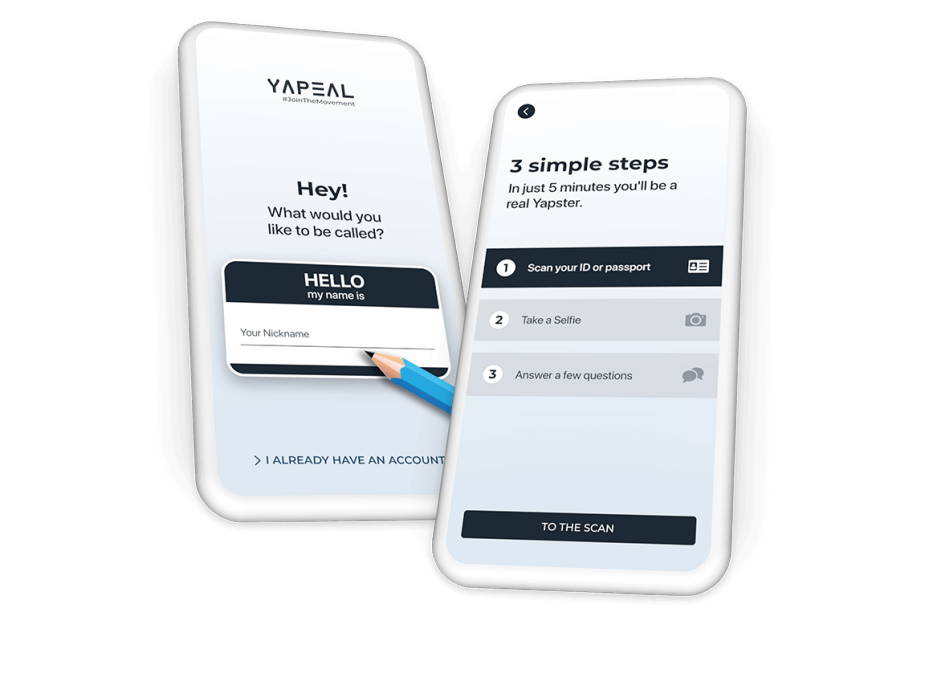 Swiss bank account
Personalized IBAN.
#YapstersStyle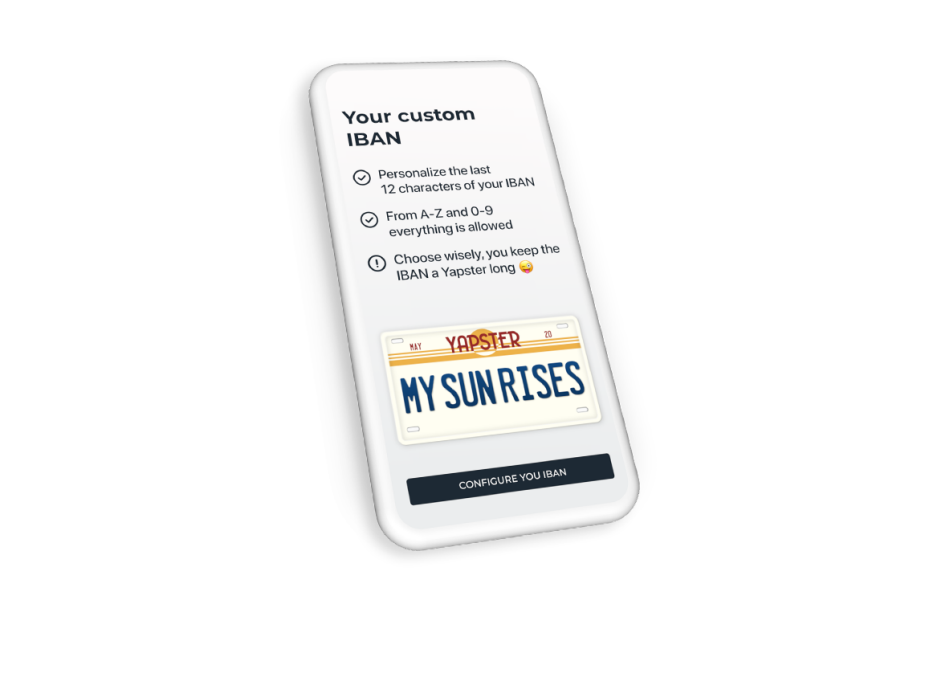 The first VISA debit card in Switzerland
All the benefits of a credit card with the
fees of a debit card.
Get yours.
#IPaywithVisa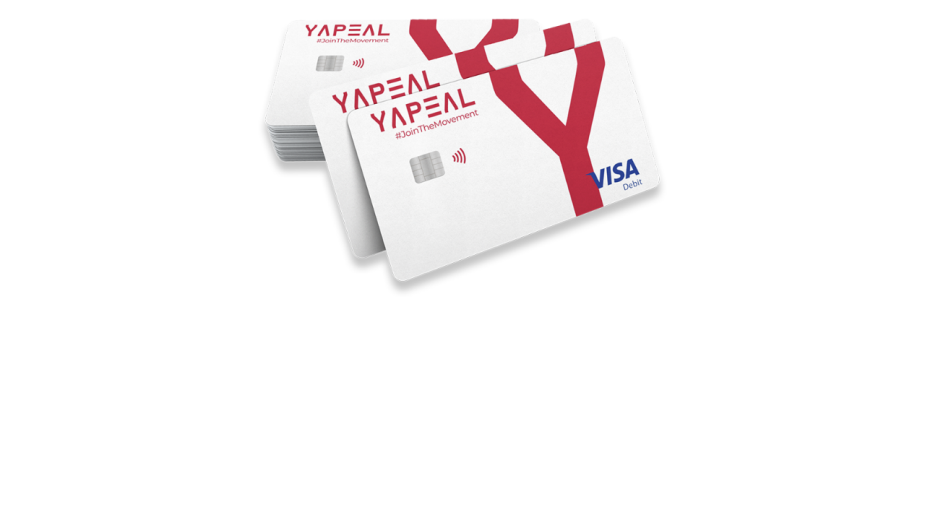 Download now
During the onboarding process, in the "Account & Card Order" section, click on the red tab "Promo Code" and enter your personal code. Alternatively, you can activate the code later in the app under Settings - Conditions & Vouchers.
YAPEAL offers a Swiss account with a personal IBAN – which is even customizable, Visa debit card, mobile wallet, and payment transaction function. This means your YAPEAL account comes with the same features as a Swiss bank account, it just provides a different experience.

You can also register your card for Mobile Pay (Apple & Google Pay) and pay directly with your phone – give it a go!

You'll have a Swiss francs account, and with your Visa debit card, you'll be welcome anywhere in the world, even virtually when shopping online outside Switzerland. Plus you'll benefit from the best exchange rates for foreign currency transactions – there are no hidden charges with YAPEAL!

Really? YAPEAL offers you a Swiss bank account with a customizable IBAN, a debit card you can use online, and an app that provides you with an overview of your balance in real time. You can pay bills directly in the app, and you'll also get the best conditions for foreign currency purchases. And all of this works independently of traditional banking. This combination isn't available anywhere else in Switzerland – that's a promise!

Unlike traditional banks, YAPEAL is subject to the Fintech license. With this YAPEAL is obliged to deposit 100% of your money – they do this at the Swiss National Bank. Risky transactions, investments and other forms of working with your money are not allowed for them. Therefore, the legislator does not provide any additional depositor protection for Fintech-regulated companies.  

As a Sunrise Youth customer, you can use YAPEAL for 6 months without any monthly subscription fees. Any costs incurred directly by you for third-party services (e.g. cash withdrawals/card replacements) will be charged to you without additional fees. There is no minimum duration and you can cancel at any time.

Here at YAPEAL, we're convinced we can win you over as a satisfied #Yapster, and we will inform you in good time before the 6 months are over as to what the next steps are. Current prices can be viewed at any time on our web page yapeal.ch.

Your Sunrise Youth subscription gives you access to a personal promo code, which you simply enter during the onboarding process (red logo "Promo Code" when setting up an account). This activates your monthly cost exemption. Please note that you have to be 18 years old to open an account.

You also have the option of entering the promo code directly in the YAPEAL app settings after the onboarding and can view the terms at any time.

The promo codes will be sent to you by Sunrise via the regular communication channels (SMS/MMS/e-mail) in the coming weeks and can be redeemed until 31.10.2020. The promo codes are not combinable.

You will find all the relevant information regarding your questions on the YAPEAL web page, yapeal.ch, including contact information for support.

Once you're a #Yapster, you can contact YAPEAL through a secure channel directly via the app at any time, whether it's to give feedback or to ask for support. But you'll easily be able to deal with most queries yourself in the app.

What's more, there are lively exchanges about all the relevant topics in YAPEAL's fantastic "Yapster Community" – join now! #JoinTheMovement
Are you at your desktop?
Video: Lerocque - Hanging Out With The Cool Kids (Official Music Video)
Lerocque is a proud #Yapster and part of the community
More information on YAPEAL
www.yapeal.ch