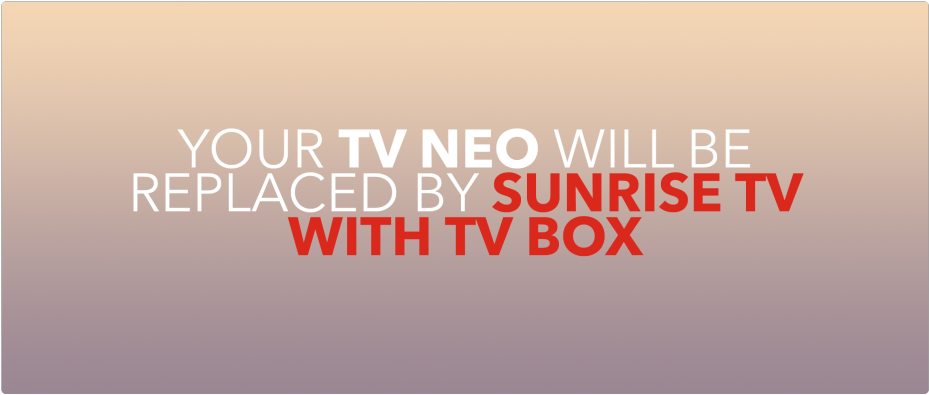 The latest TV entertainment from Sunrise is here
We continuously improve our products so we can offer our customers a very special TV experience. That's why we're replacing your current TV neo app with our new TV product:
Sunrise TV / Sunrise We TV / Sunrise Up TV L
To make this switch, you'll need to install our new Sunrise TV Box, which you'll receive by post. We also recommend that you download our new Sunrise TV App so you can enjoy the new Sunrise TV on mobile devices, smart TVs and Apple TV.
On this page you'll find everything you need to know about your new product and the next steps.

TV neo max
New Sunrise TV
Price
20.-
30.- for you 20.–
Channels (HD)
240
280
Replay
7 Days
7 Days
Recordings
500h
2000h
Video on Demand (VOD)
No
Yes
Paid options (Premium Plus, language options, etc.)
No
Yes
MySports (day pass / subscription)
No
Yes
Number of streams
6
5 (max. 3 pay channels)
Personal profiles
No
Yes
Supported TV streaming devices
Apple TV, Samsung TV
Apple TV, Android TV, Fire TV, Samsung TV from 2019
Pre-installed streaming apps
No
Yes (Netflix, YouTube, Prime Video, Blue, Sky, etc.)
Supported mobile devices
Mobile phones, tablets (Apple & Android), PCs
Mobile phones, tablets (Apple & Android), PCs
Sunrise TV App included
-
Yes
The switch to Sunrise TV / Sunrise We TV / Sunrise Up TV L will happen automatically. As soon as you've received and installed the TV Box, you'll be able to use the new TV service straight away. It's best to install the TV Box as soon as you receive it and activate Replay so that in seven days time you'll still have full access to the last seven days.
Please note that old recordings can't be transferred – make sure you watch them in the next two weeks. TV neo will still be available during this time.
Please note that TV neo will be deactivated 14 days after switching and will no longer be offered in the future.
Your TV experience to enjoy on the go
Enjoy your new television experience on the go and get the new Sunrise TV App on your mobile device.
Download the app, log in and enjoy your TV entertainment.
Please note:
To use the new app, it's important that you create a new password. Your old password won't work with the new app. You've been sent an SMS with a link for you to set a new password. Please click on the link and follow the instructions.

Your mobile number will still be your user name.
Do you have any other questions?
More information about the app can be found here