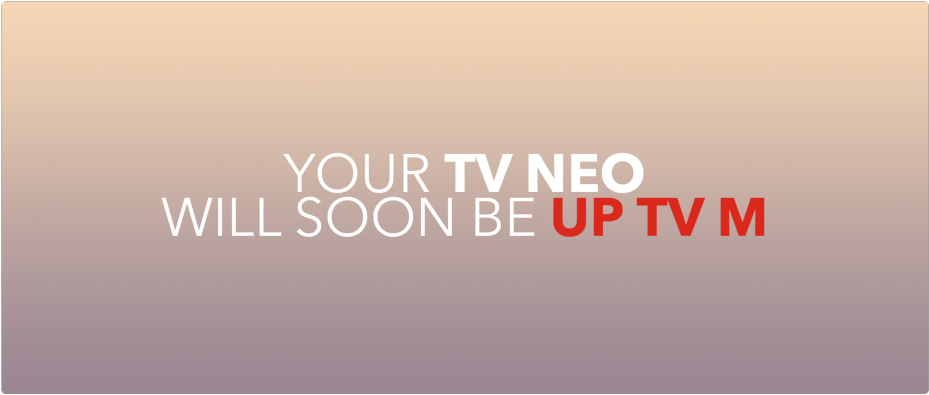 The Sunrise TV App is here!

The new Sunrise TV App with enhanced features is here and will be replacing the old TV neo app.

Your «TV neo» product will soon be «Up TV M»
These are your advantages: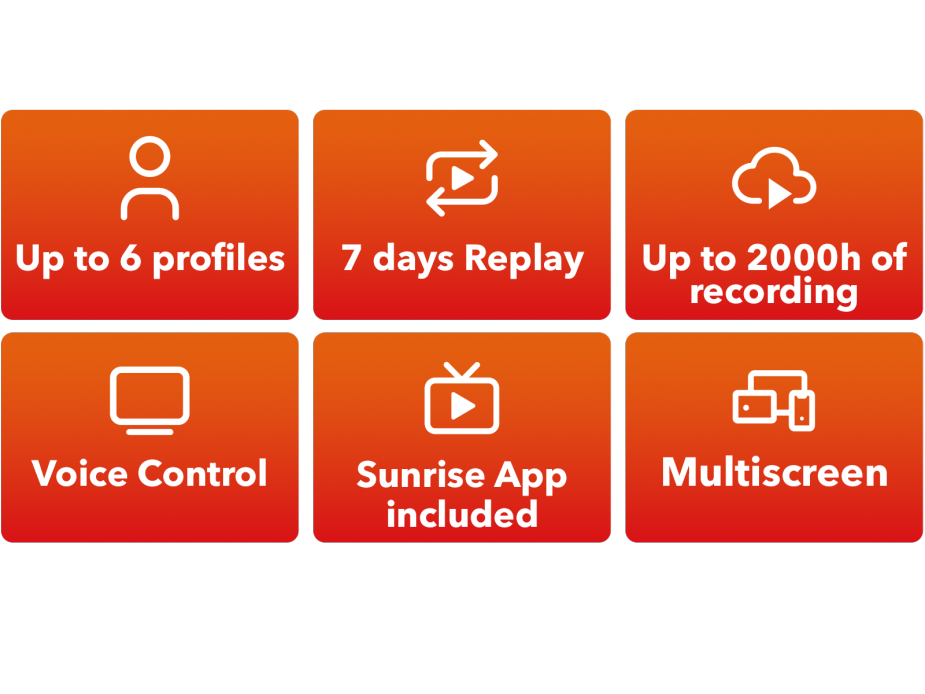 The next steps:
1. In order to use the app, it's important that you create a new password. Your old password won't work with the new app. We'll send an SMS with a link to your mobile number. Please click on the link as soon as you can to reset your password.
2. Please download the new Sunrise TV App on your devices right away. See point 4 for more information.
3. Your mobile number will still be your user name!
4. Here, we'll give you a description of the new app and explain how to download it.
Important to know:
Please note that old recordings can't be transferred – make sure you watch them in the next two weeks after switching to Up TV M. TV neo will still be available during this time.
Set up the new Sunrise TV App today and activate Replay, so that in seven days' time you'll have full access to the last seven days!

The Sunrise TV app is our new TV app with enhanced features.
Up TV M is the new product that will replace TV neo max and that you'll now see on your bills.

 

Sunrise TV M is the new TV product for customers who don't have a TV Box. It's replacing our TV neo product. With the Sunrise TV app, we've developed an improved app with more features and access to premium content, which is why we're shutting down the TV neo app.

TV neo max
Up TV M
Price
20.-
20.-
Channels (HD)
240
275
Replay
7 days
7 days
Recordings
500h
2000h
Video on Demand (VOD)
No
Yes
Pay Options (Premium Plus, Language options, etc.)
No
Yes
My Sports (Daypass/Subscription)
No
Yes
Number of streams
6
5 (max 3 pay channels)
Personal profiles
No
Yes
Supported big screen devices
Apple TV, Samsung TV
Apple TV, Android TV, Fire TV, Samsung in 2023
Supported mobile devices
Mobiles, Tablets (Apple & Android), PC's
Mobiles, Tablets (Apple & Android), PC's

You'll need to activate Replay again. When using the app on your device for the first time, you can choose whether to use the Replay function by setting it to «On» or «Off». We recommend activating Replay (only needs to be done once) to access past broadcasts.
Note: We're only allowed to grant access to past broadcasts from the time at which Replay was activated. Therefore, the full seven days of Replay will only be available to you seven days after activation.